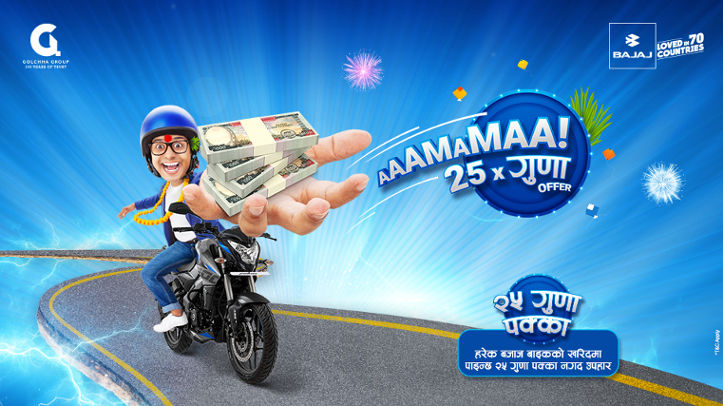 Hansraj Hulaschand & Co. Pvt. Ltd., the authorised distributor of Bajaj bikes in Nepal, has a special offer for the festive season called the Bajaj Dashain Campaign: "Aaamamaa 25 Guna." This campaign started on September 10th and it will run until November 30th.
This exciting campaign gives enthusiastic buyers a chance to win a guaranteed 25 times cash prize when they purchase a new Bajaj bike. Here's how it works:
If you buy a new Bajaj bike during the campaign, you'll be eligible to participate in a lucky draw.
For the lucky draw, the company will collect your name, phone number, address, the bike's serial number, and chassis number.
The lucky draw will reveal different slips, each with a cash amount written on it. And, whatever amount is on the slip, the customer will receive 25 times that amount as your prize.
For example:
If you draw a slip with Rs 100 written on it, you will receive Rs 2,500.
If you draw a slip worth Rs 1,000, you will receive Rs 25,000.
This is a fantastic opportunity to make your Bajaj bike purchase even more rewarding during the Dashain Campaign. So, don't miss out on your chance to win big!
Also read: Bajaj showcases the 2023 Pulsar NS160 and the Pulsar NS200 at the 2023 NADA Auto Show
Bajaj bike price in Nepal
| | |
| --- | --- |
| Bajaj models | Price in Nepal |
| Platina 100 ES | Rs 2,02,900 |
| Discover 125 Disc | Rs 2,38,900 |
| Discover 125 ST | Rs 2,46,900 |
| Pulsar 125 Disc | Rs 2,59,000 |
| Pulsar NS 125 BS6 | Rs 2,87,900 |
| Pulsar 150 SD | Rs 2,98,900 |
| Pulsar 150 TD | Rs 3,16,900 |
| Pulsar 160 NS TD ABS | Rs 3,30,900 |
| Pulsar NS 200 (Non ABS) | Rs 3,49,900 |
| Pulsar NS 200 ABS | Rs 3,91,900 |
| Pulsar NS 200 ABS FI | Rs 4,01,900 |
| Pulsar 220 F ABS | Rs 3,99,900 |
| Pulsar N 160 Dual Channel ABS BS6 | Rs 3,93,900 |
| Pulsar N 250 Dual Channel ABS BS6 | Rs 4,49,900 |
| Pulsar NS200 FI Dual ABS BS6 | Rs 4,24,900 |
| Pulsar NS160 FI Dual ABS BS6 | Rs 3,86,900 |
| Pulsar NS 200 FI ABS BS6 | Rs 4,13,900 |
| Avenger 160 Street ABS | Rs 3,68,900 |
| Avenger 220 Cruise | Rs 4,12,900 |
| Dominar 250 Dual ABS | Rs 5,67,900 |
| Dominar 400 Dual ABS BS6 | Rs 5,99,900 |
| Dominar 250 ABS BS6 | Rs 5,49,900 |