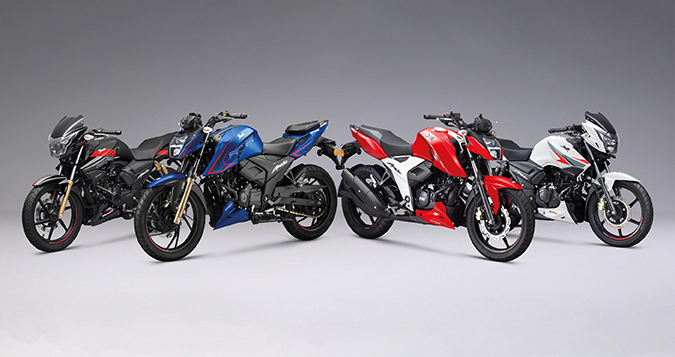 Jagdamba Motors Pvt. Ltd, the sole authorized distributor of TVS motorcycles and scooters, has recently unveiled an updated pricing structure for their lineup of two-wheelers. This revision has resulted in price increases for specific motorcycle models, and among scooters, only the NTorq 125 scooter variants seeing a rise in their price tags.
Motorcycles
Apache RTR 200 ABS FI: This model's price has been raised by Rs 13,000.
RTR 160 4V REF ABS FI: The cost of this variant has increased by Rs 9,000.
RTR 160 4V FD REF SC: Customers will now see a Rs 3,000 price hike for this specific model.
Apache RTR 160 2V FD: The price of this model has also gone up by Rs 3,000.
Scooters
All three versions of NTorq 125, namely the Xp, the Race BS6, and the Drum, have experienced a Rs 4,000 price increase.
TVS motorcycles and scooters price in Nepal
| | | |
| --- | --- | --- |
| TVS models | New price in Nepal | Change |
| Apache RTR 160 2V FD | Rs 2,94,900 | Rs 3,000 |
| Apache RTR 160 4V RD | Rs 2,90,900 | – |
| RTR 160 4V FD REF S.C | Rs 3,15,900 | Rs 3,000 |
| RTR 160 4V RD REF S.C | Rs 3,18,900 | – |
| RTR 160 4V ABS | Rs 3,59,900 | – |
| RTR 160 4V REF ABS FI | Rs 3,92,900 | Rs 9,000 |
| Apache RTR 180 | Rs 2,79,900 | – |
| Apache RTR 200 4V 2.0 | Rs 3,24,900 | – |
| Apache RTR 200 ABS | Rs 3,79,900 | – |
| Apache RTR 200 ABS FI | Rs 4,24,900 | Rs 13,000 |
| RR 310 | Rs 7,99,900 | – |
| TVS Iqube S | Rs 4,29,900 | – |
| TVS Stryker REF | Rs 2,33,900 | – |
| TVS Raider 125 | Rs 2,64,900 | – |
| Redeon 110 | Rs 1,98,900 | – |
| TVS NTorq Xp | Rs 3,20,900 | Rs 4,000 |
| TVS NTorq Race BS6 | Rs 3,05,900 | Rs 4,000 |
| TVS NTorq SQUAD | Rs 2,84,900 | – |
| TVS NTorq Race | Rs 2,79,900 | – |
| | | |
| --- | --- | --- |
| TVS NTorq Disc | Rs 2,69,900 | – |
| TVS NTorq Drum | Rs 2,36,900 | Rs 4,000 |
| TVS Jupiter Classic | Rs 2,11,900 | – |
| TVS Wego BS6 | Rs 2,26,900 | – |